I had trouble installing the ppa the first time I tried about a month ago. It seemed to go through the second time around
Install LimeSuite using the ppa instructions for ubuntu. I have 16.04
https://wiki.myriadrf.org/Lime_Suite
lsusb shows OpenMoko as the device. Odd.
https://wiki.myriadrf.org/LimeSDR_Quick_Start
Ok. A capitalized command LimeSuiteGUI is insane. No commands are capitalized.
It brings up some spaceship of cryptic options.
Some of the stuff in the top menu bar seems good. Connecting, Programming, FFT, etc.
The commands
LimeUtil –info
LimeUtil –find
Lists a device. So that's good. Also does updating?
Added a myriad RF ppa for gnuradio
https://wiki.myriadrf.org/Packaging
sudo apt-get install gnuradio gnuradio-dev
Also installed gqrx. This is very useful for determining if the goddamn thing is working at all
http://gqrx.dk/download/install-ubuntu
Ok. GQRX was crashing on boot.
So was gnuradio when I tried playing with the osmocom source
GNU C++ version 5.4.0 20160609; Boost_105800; UHD_003.010.001.001-release
ImportError: /usr/lib/python2.7/dist-packages/gnuradio/uhd/_uhd_swig.x86_64-linux-gnu.so: undefined symbol: _ZN3uhd4usrp10multi_usrp7ALL_LOSB5cxx11E
so did python
from gnuradio import uhd
Eventually I apt get installed libuhd-dev which makes gqrx run now with an rtl-sdr
gqrx with line
soapy=0,driver=lime
should work but didn't
Hmm another twist
Limesdr is power hungry
I may not have a usb3 port on my 2012 desktop insane as that sounds
so i need external power? I wonder if that is what the blinking led signifies
Trying to install in windows now. Maybe that will work better
Install PothosSDR
After running zadig can recognize an rtl-sdr in gqrx
https://wiki.myriadrf.org/Lime_Suite#USB_driver
Install the drivers as specified for limesdr.
I accidentally installed the x86 instead of the x64 drivers and needed to uninstall with deletion and then reinstall properly. Got error code 48
It appears to be working.
https://wiki.myriadrf.org/LimeSDR-USB_Quick_Test
GQRX opens.
It has been months since I tried in ubuntu 16.04. Maybe things have gotten better.
ok. At first gqrx wouldn't load but after fiddling with the sampling and bandwidth it does. I don't get any FM signals with nothing attached to the Lime. That is either good or bad. It does appear to be receiving data at least though.
So I have not gotten gqrx to actually receive signals with limesdr, but gnuradio appears to be working to some degree. This graph plays audio on 101.5 although very crappily. I hope it just needs filtering (I think I should be low passing those resamplers. Also I probably shouldn't be receiving on the middle of the band where the DC spike is). I doubled the resampler because a single resampler through an error for too much decimation. Is this standard procedure?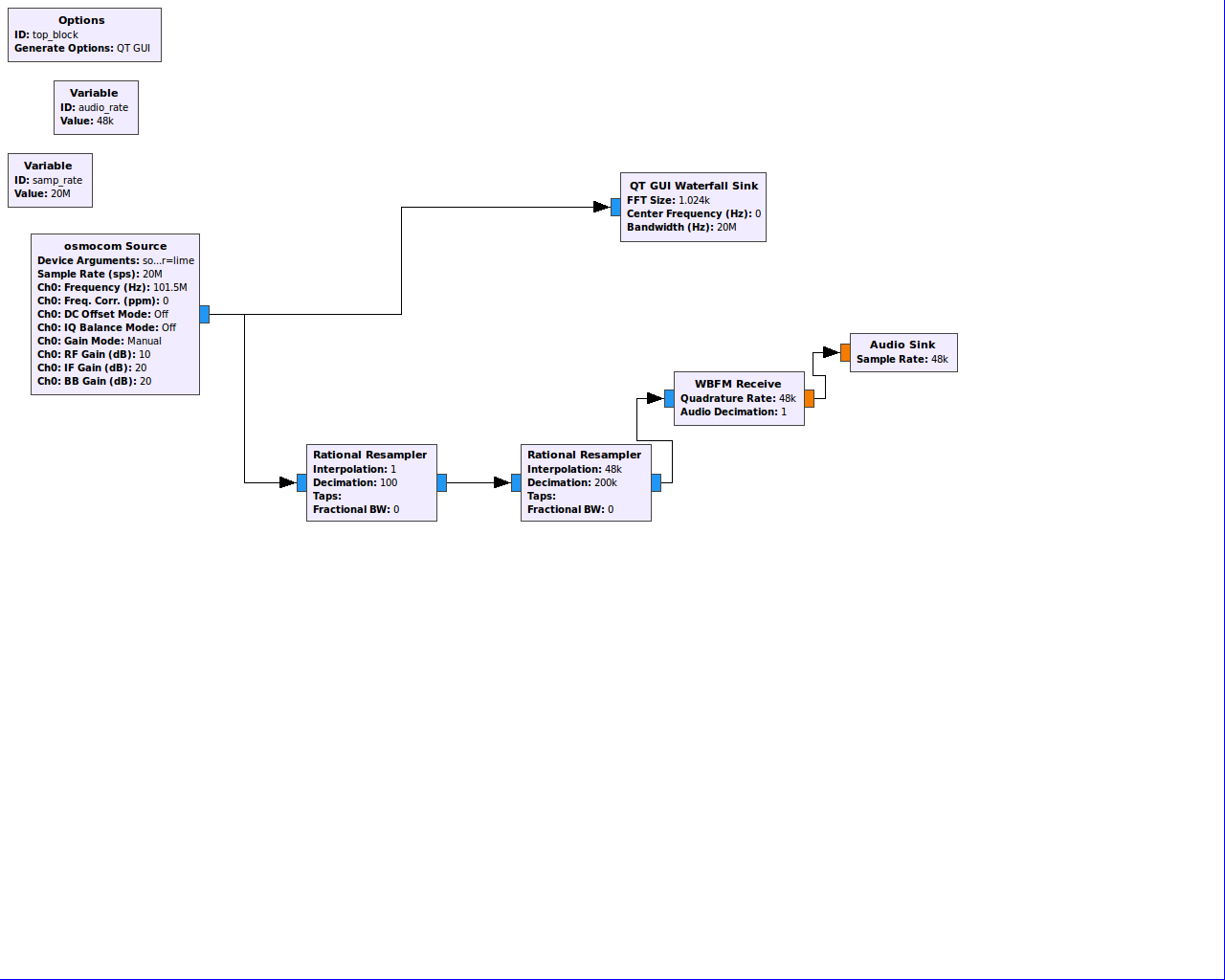 Useful gnuradio tutorials
http://files.ettus.com/tutorials/labs/Lab_1-5.pdf
Possibly useful blog series
https://myriadrf.org/blog/limesdr-made-simple-part-4-pothos-beyond/
ok. Next step is simple transmit and receive